Home
> Snake and Animal Repellers
Snake and Animal Repellers – Ultrasonic, Sonic & Vibration
We are here for you and your dog's safety and that also includes your dog's safety from animals, pests and snakes. We have picked out a few of the best snake and animal repellers in the market and offer them to you with competitive prices and with cost-efficiency in mind.

Take advantage of Ultrasonic, Sonic & Vibration to repel those pesky snakes that keep coming into your backyard and risking your dog. Cover your whole backyard perimeter with a few of our new snake repellers and animal repellers and get rid of those pesky snakes and rodents that are plaguing your property. All three of our available models are completely rechargeable through solar power to save you money and time with maintenance. All you need to do is go through the quick and easy initial setup and you'll be good to go for as long as the sun is smiling.


We have 3 main models for now. The first is a simple snake repeller that combines both Sonic frequencies of 400Hz to 1000Hz and Vibration to simulate what bushwalkers do to repel snakes away. Install a few of them around your yard to completely create an invisible fence against snakes coming near your property.

The second is a similar snake repeller with an timed LED light which will turn on when it gets dark and turn off when its morning to save power. This not only becomes a way to check whether it's working but also a nice little yard light for your landscape.

The third is an Ultrasonic Animal Repeller with settings to repel Mice or Small Rodents, Large Dogs and Foxes and Small Dogs, Cats and Birds. It also has a strong flashing strobe light and a setting that will use all of the Ultrasonic frequencies and the strobe light in a sweep mode.


Here for you and your dog,
Colin Seal

Best Deal Guaranteed

Free Training Guide

Shipped Same Day

'Trade Up' - Trade In...

6 Month Trade In Guarantee

Aussie Buyer Protection
Trouble Free Guarantees
Lowest Price / Best Deal
7 Day Support Line
Proud Aussie Family Business (Since 2003)
Free Dog Training Guide
Supporting Animal Rescue
Have a Question? Prefer to Order by Phone?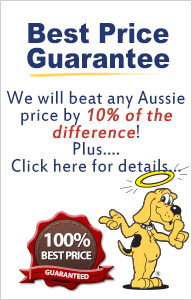 Best Deal Guaranteed

Free Training Guide

Shipped Same Day

14 Days 'Trade Up'

14 Day 'Trade up' Guarantee