Tammy lee Foster
Cleo Doesn't Leave Home Anymore
Tammy shared a photo of beautiful Cleo with the dog fence collar on her.
Since she got the dog fence system, Cleo stays within the boundary even when they are not home..

Aussie Buyer Protection
Trouble Free Guarantees
Lowest Price / Best Deal
7 Day Support Line
Proud Aussie Family Business (Since 2003)
Free Dog Training Guide
Supporting Animal Rescue
Have a Question? Prefer to Order by Phone?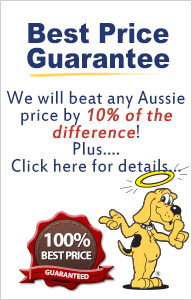 Best Deal Guaranteed

Free Training Guide

Shipped Same Day

14 Days 'Trade Up'

14 Day 'Trade up' Guarantee