Karen Lewis
We Know He Won't Leave Because Of The Dog Fence
Karen's kelpie does not leave the property any longer when they installed the Invisible Dog Fence Kit with plenty of space to roam around, knowing that her dog will not leave even without a physical fencing.

Aussie Buyer Protection
Trouble Free Guarantees
Lowest Price / Best Deal
7 Day Support Line
Proud Aussie Family Business (Since 2003)
Free Dog Training Guide
Supporting Animal Rescue
Have a Question? Prefer to Order by Phone?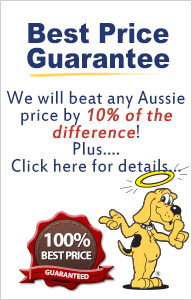 Best Deal Guaranteed

Free Training Guide

Shipped Same Day

14 Days 'Trade Up'

14 Day 'Trade up' Guarantee