Dave Blackham
The Dog Fence Stopped My Dog From Going Out.
Dave had posted on FaceBook Wall letting us know how her wandering dog - Kelie had stopped from going out the block to meet neighbour's dogs after they got the Grounds Keeper Dog Fence Kit.

Aussie Buyer Protection
Trouble Free Guarantees
Lowest Price / Best Deal
7 Day Support Line
Proud Aussie Family Business (Since 2003)
Free Dog Training Guide
Supporting Animal Rescue
Have a Question? Prefer to Order by Phone?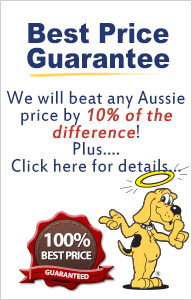 Best Deal Guaranteed

Free Training Guide

Shipped Same Day

14 Days 'Trade Up'

14 Day 'Trade up' Guarantee