PetSafe Stay and Play Wireless Dog Fence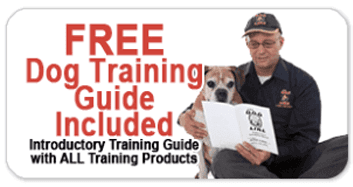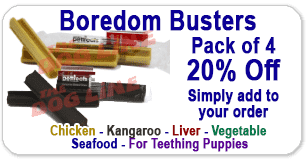 The PetSafe Stay and Play Wireless Dog Fence is designed to be portable for convenience. This has been made portable and handy for comfortable use and easy to set up without expensive fences or buried wires - perfect for travelers.
The transmitter emits a signal in all directions that covers an area from 5.2m up to a 32m in radius. More wireless transmitters can be added to increase the boundary area with overlapping signals.
Moving the transmitter to another location is as easy as setting it up for the first time. All you have to do is locate your boundary area and adjust the signal depth by testing it with the receiver collar and the included test light. Two collars are available to suit standard dogs and stubborn dog breeds both with 6 programmable levels including a tone-only mode.
What's GREAT about the PetSafe Dog Fence?
PETSAFE TRANSMITTER
3 Year Manufacturer's Warranty
Best for Dogs Weighing 2.3kg and Up
Power Loss Alarm to Alert You of Power Outage
Transmission Failure Alarm to Detect Trouble in Communicating with the Receiver Collar
Metal Interference Alarm - Ensures Efficient Signal Transmission
Adjustable Signal Depth Up to 64m Diameter
MANUALS AND GUIDES
Owner's Manual
Training Guide
Installation guide
Dog Training Flags included
THE DOG'S FENCE COLLAR
3 Year Warranty
Completely Waterproof & Submersible Dog Fence Receiver Collar
6 Programmable Levels Including a Tone Only Mode
Over-Correction Protection – For your confused dog's safety
Light Indicator for Battery Status & Correction Setting
Rapid Charging – 2-3 Hours and can last up to 3 weeks
Adjustable Collar Strap

More Goodies from The Dog Line!
The PetSafe Stay + Play Wireless Dog Fence System is sold as a complete kit and includes everything you need for easy installation and training. If you still require assistance, our 7 day helpline (1 300 843 364) is ready to walk you through each step on how to make a dog enclosure.
We can customise your invisible Dog Fence! Simply fill up our Free Dog Fence Quote Form and we'll set you up a customised dog fence kit fitted to your needs and property layout and even send you a free buying guide.
What comes in the PetSafe Box?
PetSafe Stay + Play Wireless Dog Fence Transmitter
PetSafe Stay + Play Receiver Collar – Waterproof & Rechargeable
Transmitter and Receiver Collar Power Adaptors
Contact posts to suit your dog.
50 Boundary Flags
Test Light
Owner's Manual
Training Guide
Installation Guide
The PetSafe Dog Fence Transmitter
The Stay + Play Wireless Dog Fence Transmitter is designed to be wireless to rid you of the hassle of setting up boundary wires around your property. It emits a signal in all directions ranging from 5.2m to 32m in radius or a total of 64m in diameter. This allows you to cover places like small doorways or large dining tables by adjusting the signal depth and testing with the receiver collar and test light. Multiple transmitters may be used at the same time to either cover several areas at once or to widen the range by overlapping the signals.
To achieve optimum performance, the transmitter
must be placed at the center
of your boundary area. It must be placed at least 2 feet above the floor on the ground floor of your property with proper ventilation to avoid overheating. Since this uses a radio signal to communicate with the receiver collar, it must be at least 3 feet away from large metal objects as these may interfere with the signal and result in decreasing or deforming the shape of your boundary area. There is an included wall mounting template in case you decide on mounting the transmitter on the wall.

The two-alarm systems in the transmitter alert you of a Power Loss or a Transmission Failure. These two alarms will allow you to secure your dog while you re-position or remove metal objects around the transmitter and to tell you when your dog is no longer contained.

3 YEAR MANUFACTURER'S WARRANTY
The PetSafe Stay and Play Wireless Fence System is covered by the manufacturer's warranty for 3 years.

BEST FOR DOGS WEIGHING 2.3KG AND UP
The Wireless Fence is designed for small to larger, stubborn dogs who are more determined to escape your property.

POWER LOSS ALARM
The power loss alarm alerts you if the adapter has been unplugged or when you suffer a power outage. This lets you know that your pet is no longer contained and ensures that you are able to secure your dog before it gets itself into trouble. The alarm can last up to 30 minutes to make sure you are alerted to its status.

TRANSMISSION FAILURE ALARM
Another essential safety feature that lets you know if the transmitter is having trouble communicating with the receiver collar. This lets you know that your dog is no longer contained and action is required to continue proper containment. Remove any large metal objects or reposition your transmitter away from them. Make sure that it has proper ventilation and is not contained in places such as metal sheds.

METAL INTERFERENCE ALARM
Alerts you if the transmitter has been set towards the maximum range and placed on or close to a metal surface that can potentially hinder the signal transmission.

ADJUSTABLE SIGNAL DEPTH
The transmitter can emit a signal from 5.2m up to 32m in radius which equates to 64m in diameter. The signal range is completely adjustable so you can use it to prevent your dog from walking through doorways or away from the dinner table. The flexibility with the signal range and with the correct collar makes this an effective wireless dog fence.
The PetSafe Little Dog Deluxe Receiver Collar
The Stay + Play wireless dog fence receiver collar is fully rechargeable with a convenient quick charge time of 2-3 hours. A single charge may last up to 3 weeks depending on the frequency of use and the level its set at. The included power adapter lets you charge the collar quickly to resume containing your dog without losing too much time.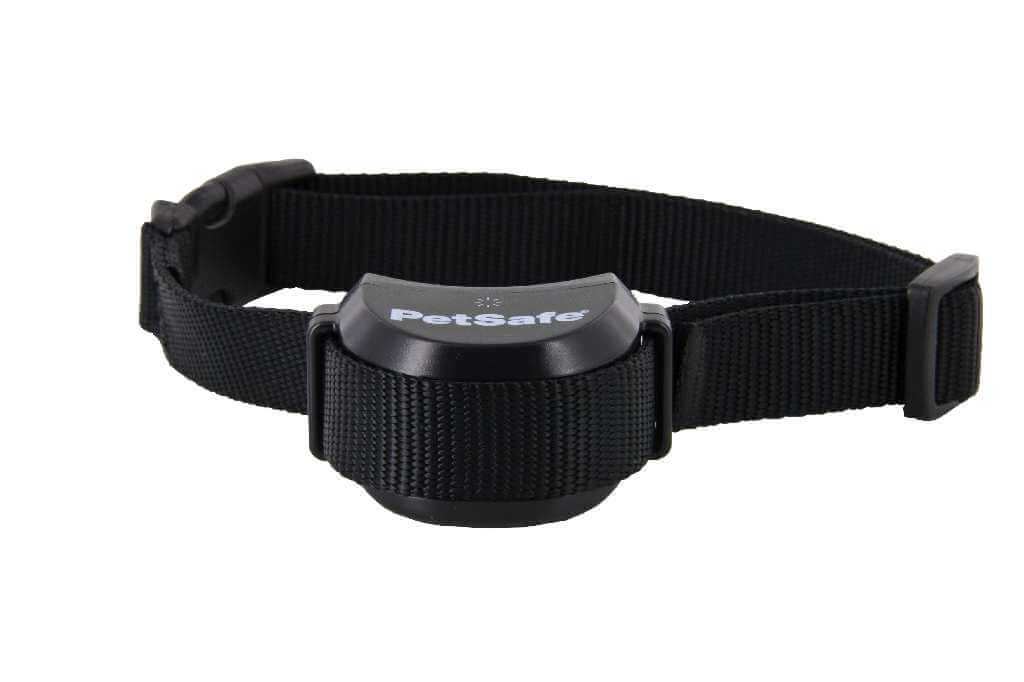 3 YEAR WARRANTY - INCLUDES DOG CHEWS
The receiver collar is fully covered with the manufacturer's 3 year warranty - fully guaranteed!

WATERPROOF EXTERIOR - FOR ADDED SAFETY
The collar is designed to be completely waterproof to avoid accidental damages caused by water seeping in the collar's body. This also protects your investment and will not cost you another collar if your dog plays in the rain or splashes in a puddle of water.

6 PROGRAMMABLE LEVELS INCLUDING A TONE-ONLY MODE
Both collars feature 6 total levels including a tone-only mode which is perfect for when training your dog. The collar activates the tone before the correction when your dog approaches the boundary signal so conditioning your dog to stop when it hears the tone is very important. 5 static correction levels are available to make sure that you have the appropriate level set for your dog's personality. Start low and gradually increase until your dog properly responds to the correction.

OVER-CORRECTION PROTECTION - KEEPS YOUR DOG SAFE
If your dog gets confused and stays in the correction area, this feature limits the static correction to only 15 seconds and shut down for 10 seconds. This gives your dog time to move back from the boundary. In the unlikely event that your dog exits the boundary signal, the collar will not give your dog a static correction when re-entering your boundary area.

STATUS INDICATOR LIGHT - TO CHECK BATTERY LEVEL AND CORRECTION LEVEL
The built-in status indicator allows you to check the collar's battery level as well as check which correction level you set the collar to. When setting the correction level, the status indicator also lets you know which level it is on. More details regarding the indicator in the owner's manual.

RAPID CHARGING (2-3 HOURS)
This quick charge is one of the collar's best features. For only 2-3 hours you can have a full charge collar ready to continue keeping your dog safe. A single full charge can last up to 3 weeks depending on the frequency of use.

ADJUSTABLE COLLAR STRAP - FOR ANY SIZED DOG
The collar comes with an adjustable collar strap to fit your dog's neck comfortably. A proper fit is important to ensure optimum performance and proper correction delivery.
WATCH OUR VIDEOS AND LEARN MORE ABOUT ELECTRONIC DOG FENCES!