Home
> How To Set Up Your TDL Partner's Business Listing
Set up your TDL Partners Business Listing

As a TDL Partner, you now have a Free Partner's Business Listing
If you are on a Paid Partnership Plan, your Listing will include a Logo, Website Images and a Longer Description of your Products and Services.
Your TDL Partner's Business Listing gives people who visit The Dog Line website opportunity to find your Business.
How does a Partner's Business Listing look like?
Here is a sample of what a Partner's Business Listing looks like. Top level or Paid Listings, will always appear on top of the results. Their Listing will include Color, Logo, and a Summary Description.
Follow these simple steps to Update your TDL Business Listing.
Step 1: After logging in, you will be taken to the Edit My Listing Page. Here, you will find your Business Name and Registered Email Address. To the right of this line, you will also see the EDIT link.
Step 2: It will then take you to your Business Listing Form where you can fill out or update all the required details about your Business. Remember that this will be directly accessible by potential customer so we highly advise to enter your details as accurately as possible.
Note: This section's categories are Required Fields. It means that you cannot submit your Business Listing without filling out the information it requires to be filled out.
If you're under our Silver/ Companion or Gold/ Leader Partnership Plan, you will then have the option to upload your Business logo, website and product images of what your business is all about in the TDL Business Listing.
Step 3: There are still fields left for you to fill out, like this one.
Additional Business Information...
will allow you to share your business's humble beginning and how it bud to be the business that you are today.
Business Hours and Payment Methods...
Will allow you to share your usual business hours and business hours over the weekends and public holidays.
Your Unique Services... This section will let you give more information of any unique services your business offers. This will allow you to advertise those unique services and will separate you from those businesses that do not make an effort of keeping their customers well informed.
Goodwill Information that makes your Business Essential and Unique...When your customers know that you're a member of a recognized organization,your business will have an added credibility. Resulting them to choose you over your competitors. Add as many organization that you're a member of!
Special Offers... Various researches proved that all types of customers respond to special offers very well. Just imagine how many interested customers will you have if you have at least 3 Special Offers?
We highly suggest that you take some time to read our

Terms and Conditions before clicking Submit.
Once you're prompted with this image below, it means that you have successfully updated your listing. Easy right? New submissions are immediately reviewed by our staffs.
Should you have more questions, please do not hesitate to give us a line.

Here for you and your dog,

Colin Seal
Director

The Dog Line
1300 The Dog
1300 843 364
(02) 8203 2742
www.thedogline.com.au
P.S. This programme is growing.. If you see any issues, just drop us a line and we will get straight on to fixing it up to make sure your experience is as smooth as possible.
This is what we're up to...
The Dog Line community is an industry network of dog-related establishments and business owner, as well as service professionals from all over Australia. You will find them all on the TDL Business Listing.

Aussie Buyer Protection
Trouble Free Guarantees
Lowest Price / Best Deal
7 Day Support Line
Proud Aussie Family Business (Since 2003)
Free Dog Training Guide
Supporting Animal Rescue
Have a Question? Prefer to Order by Phone?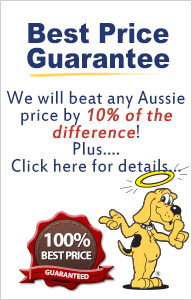 Best Deal Guaranteed

Free Training Guide

Shipped Same Day

14 Days 'Trade Up'

14 Day 'Trade up' Guarantee