Home
> What is the TDL Partners Business Listing?
The Dog Line
Partners Business Listing
What is the Partners Business Listing?


The

Partners Business Listing

is a network of businesses that cater Dogs and Pet Care Services. We want to make The Dog Line Business Listing the most comprehensive online Directory in Australia for finding Dogs and Pet Care Services.
Our Hotline 1300-THEDOG receives numerous calls on a daily basis asking information about Vets, Groomers, Boarding and other pet care services.
Being a part of the TDL Business Listing will boost your business's visibility so it can easily be accessible to the online community.
Here's a partial result for Vet Clinics in Sydney within 20km of Post Code 2000.



Benefits of being a Partner...
The benefits of being a Partner are limitless!
For starters, your business will immediately be accessible to our customers which means more business coming your way!
- Our Partners get access to exclusive wholesale prices ranging from 15% off on certain products.
- Your Business Listing on The Dog Line becomes an extension of your website.
- Partners will have their unique Affiliate Code Link. It will give you commissions/affiliate points for every purchased product by your customers, through your Affiliate Code Link.
We Offer 3 Business Listings!
The DL Starter (Free):

You get the listed on the directory with your Basic Details.
TDL Silver/Companion (Paid):

Your Listing will be a lot more detailed and get higher priority on searches.
TDL Gold/Leader (Paid):

Your Listing will be very detailed to include information such your Logo, Personalized Images, and a Detailed Business Description. It will also show up as the Highest Priority on searches.
HOW TO BE A PARTNER?
Becoming a Partner of the TDL Partnership Programme is very easy. For more information, please click here.
Just Pick from one of our

Three Partner Packages

here

.
You will need a Valid ABN to sign up.
Create a Partner's Account

,

Fill out your Business Listing Details

and you're done!
Just like that you've become a part of the TDL Partners Programme and TDL Business Listing with all the benefits that comes with it.
Should you have more questions, please do not hesitate to give us a line.



Here for you and your dog,

Colin Seal
Director

The Dog Line
1300 The Dog
1300 843 364
(02) 8203 2742
www.thedogline.com.au
P.S. This programme is growing.. If you see any issues, just drop us a line and we will get straight on to fixing it up to make sure your experience is as smooth as possible.
This is what we're up to...
The Dog Line community is an industry network of dog-related establishments and business owner, as well as service professionals from all over Australia. You will find them all on the TDL Business Listing.

Aussie Buyer Protection
Trouble Free Guarantees
Lowest Price / Best Deal
7 Day Support Line
Proud Aussie Family Business (Since 2003)
Free Dog Training Guide
Supporting Animal Rescue
Have a Question? Prefer to Order by Phone?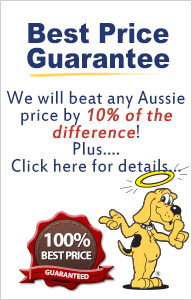 Best Deal Guaranteed

Free Training Guide

Shipped Same Day

14 Days 'Trade Up'

14 Day 'Trade up' Guarantee