Home
> Pet Barrier - Dog Fence Poster
Pet Barrier - Dog Fence Poster
04-Oct-2013
Electric Dog Fence Poster.
Download your FREE poster to help people stop dogs escaping... The Pet Barrier electric dog fence is now on our colour poster for you to print and show people how they work.
For more information on how an electric dog fence can help stop your dog escaping and protect your gardens with our 100% guarantee simply call us on our seven day help line. 1300 THE DOG (1300 843 364)
Dog Containment has never been easier or with such a great guarantee of success to stop a dog escaping or digging in the gardens.
Call our seven day help line for dog training advice today.
---

Aussie Buyer Protection
Trouble Free Guarantees
Lowest Price / Best Deal
7 Day Support Line
Proud Aussie Family Business (Since 2003)
Free Dog Training Guide
Supporting Animal Rescue
Have a Question? Prefer to Order by Phone?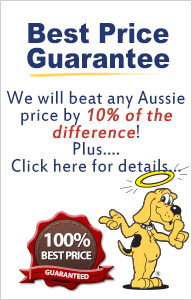 Best Deal Guaranteed

Free Training Guide

Shipped Same Day

14 Days 'Trade Up'

14 Day 'Trade up' Guarantee