Home
> Are these Dog Training Aids proven effective?
Are these Dog Training Aids proven effective?
Our 'E' products are specialised training aids. Their success depends on their use as part of a training program to achieve the desired results. With all types of behaviour modification, the only key is to be consistent and persistent to achieve long term results.

We provide owner's training manual for each product. Our 7 day help line is also available for advice on how to achieve the best results.

With any kind of correction or training collar, the dog's initial reaction may be that of surprise. This is to be expected as they are not aware of what is happening or why. Follow the training manual to help reduce this dog's initial reaction.

Aussie Buyer Protection
Trouble Free Guarantees
Lowest Price / Best Deal
7 Day Support Line
Proud Aussie Family Business (Since 2003)
Free Dog Training Guide
Supporting Animal Rescue
Have a Question? Prefer to Order by Phone?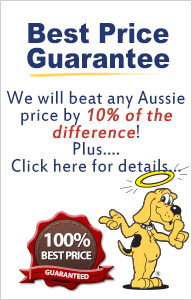 Best Deal Guaranteed

Free Training Guide

Shipped Same Day

14 Days 'Trade Up'

14 Day 'Trade up' Guarantee