Home
> What is my dog's reaction to a Static Barking Dog Collar?
What will be my dog's reaction to a Static Correction Barking Dog Collar?
Using any type of
Barking Dog Correction Collar
the first time will give your dog a 'surprise' reaction. The dog would not know where the correction is coming from or why it is receiving it. A quick fright or jump may be experienced. Following the training manuals will help to ensure that the introduction of the collar will go as smoothly as possible.
If the
Barking Dog Collar
is automatic, it can be removed until it adjusts back down to the low levels again. Short breaks in training are recommended. However, the key to behaviour modification is to be consistent and persistent.
Your dog might be 'sad' for a day or so, but do not stop the training. Monitor this as needed. The dog is being trained to change behaviours and reduce barking; there is now a new set of rules which the dog may not be happy with. This reaction may only last a day or so.

Aussie Buyer Protection
Trouble Free Guarantees
Lowest Price / Best Deal
7 Day Support Line
Proud Aussie Family Business (Since 2003)
Free Dog Training Guide
Supporting Animal Rescue
Have a Question? Prefer to Order by Phone?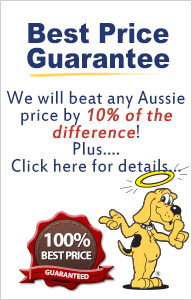 Best Deal Guaranteed

Free Training Guide

Shipped Same Day

14 Days 'Trade Up'

14 Day 'Trade up' Guarantee