Home
> Innotek Electric Dog Fences
Innotek Electric Dog Fences – Basic Dog Fence Systems
Innotek, along with PetSafe is another company owned by the parent company, Radio Systems Corporation. Just like PetSafe, SportDOG and Staywell, Innotek produces products focused on protecting dogs.

Our Innotek Dog Fence products have been hand-picked out of a number of other products to ensure that you have the highest quality Electric Dog Fence System for your money. Our Innotek Fences offer some of the most basic features but are still as reliable as the more advanced kits from other brands but the affordability and flexibility are what it's all about.

The Static Correction Collars included in our kits are safe for dogs and won't hurt them at all. Even at the highest levels of stimulation, the worst it can do is giving your dog a scare but we do not recommend that.
Our Innotek Electric Dog Fences work with a general concept. A transmitter is mounted indoors with both ends of the Dog Fence Wire attached to it creating a complete loop. The wire is then laid out around the property to create an invisible boundary. Think of your house being surrounded by the wire that acts as the hidden dog fence. Once the wire is in place, the transmitter is turned on and set to the desired signal width. Simply put, the signal width is how far the signal will be coming out of the wire to all directions. The larger the width, the more secure your boundary is, but that means your dog would have less space inside your property.

The Receiver Collar is then strapped on to your dog's neck snugly to prevent it from moving too much. Once the collar is turned on, it will detect the signal coming from the boundary wires around your property. If your dog comes near the boundary, it will activate and give your dog stimulation, reminding him of his training to not come near the boundary. With proper training, your dog will quickly learn that the collar will deliver stimulations each time they come near or try to move past the boundary.


Here for you and your dog,
Colin Seal

Best Deal Guaranteed

Free Training Guide

Shipped Same Day

'Trade Up' - Trade In...

6 Month Trade In Guarantee
Electric Dog Fence Blog Posts
Dogs digging up garden beds is no surprise. However, your dog destroying your garden can really be a disaster - imagine thousands of dollars spent on fancy plants, teared up by your pooch! So, we compiled 5 very useful tips to stop your dogs from digging up and getting into your garden beds, one of these is getting an awesome dog-proof fencing and having an effective dog-proof garden design. See the video below.

If you are ever wondering how to join, fix or repair broke Electric Dog Fence Wire, then check out this step by step guide. Firstly for a electric dog fence kit, get a wire that is TUFF, and can cope a bit of abuse from the natural elements like the heat of the australian sun.

Canines are escape artists by nature. Escaping is a serious problem for both you and your dog, as it can have tragic consequences.
If you have an off-leash dog in your yard, he is in danger of being hit by a car, getting injured in a dog fight or being hurt in several other ways that we wouldn't want to imagine. Escaping your property may lead to this and I'll explain why they do it.

Aussie Buyer Protection
Trouble Free Guarantees
Lowest Price / Best Deal
7 Day Support Line
Proud Aussie Family Business (Since 2003)
Free Dog Training Guide
Supporting Animal Rescue
Have a Question? Prefer to Order by Phone?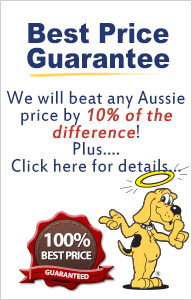 Best Deal Guaranteed

Free Training Guide

Shipped Same Day

14 Days 'Trade Up'

14 Day 'Trade up' Guarantee