Home
> D.T. Systems Anti Bark Collars
D.T. Systems No Bark Trainers
D.T. Systems is popularly known for their Remote Dog Trainers, Bird Launchers and other Hunting and Working Dog Training Products. They manufacture their equipment with the highest standard to use for hunting and their Bark Control Collars are the same way. They've been manufacturing these products since 1983.

The D.T. Systems Ultra Min-e 2090™ Anti-Bark Collar is one of the cheaper Bark Control Collars from D.T. Systems that has proven itself in the field for years. It's 100% waterproof, lightweight and compact best suited for small to large dogs. It's specially designed vibration sensor detects vocal cord vibrations from your dog and won't activate from barks coming from other dogs.

The Ultra Min-e 2090™ features 8 levels of stimulation that you can set yourself to suit any type of dog temperament. Its digital memory feature makes sure that the level stays the same even if you turn the unit off and the delay between corrections makes sure your dog is safe from over-correction. It's powered by a 6V alkaline battery that can last between 2-4 months.
This product is unavailable or out of stock.

Best Deal Guaranteed

Free Training Guide

Shipped Same Day

'Trade Up' - Trade In...

6 Month Trade In Guarantee
Dog Bark Collar Reviews
Tilly here is such a sweet big girl, but she goes out of control when she sees pigeons flying around their yard and neighbours passing by. No one can really stop her specially when she's alone. So today, I visited her and I brought one of the most effective bark control collars available in Australia.

Petsafe is one of the leading manufacturer of high quality and effective bark control collars. Having different Electric Bark Collars you can find the perfect one for your need. They are the only brand in the world that made and effective and safe Anti Bark Collars for dogs weighing 4kgs.

Simba needs to calm down and reduce the barking. The PetSafe Anti Barking Collar for Small Dogs teaches Simba Correct Barking habits - before this she was like a pack of angry wolves..

Aussie Buyer Protection
Trouble Free Guarantees
Lowest Price / Best Deal
7 Day Support Line
Proud Aussie Family Business (Since 2003)
Free Dog Training Guide
Supporting Animal Rescue
Have a Question? Prefer to Order by Phone?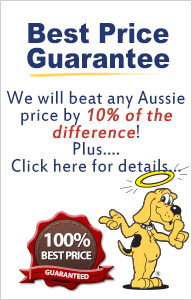 Best Deal Guaranteed

Free Training Guide

Shipped Same Day

14 Days 'Trade Up'

14 Day 'Trade up' Guarantee