Home
> Dogtra Bark Control Collars
Dogtra No Bark Collars
Dogtra Bark Control Collars are some of the most comfortable in the market. With ergonomic contact pole design using a special conductive plastic material, this is definitely one of the unique Bark Control Collars in the market.

The Dogtra IQ No Bark Collar is our only Dog Bark Collar from Dogtra. It's powered by 2 CS2032 button batteries with a sleep mode feature that saves you battery when the collar is not in use. The IQ by Dogtra is designed to be used on dogs from 4kgs. It's completely waterproof and submersible and features 10 programmable stimulation settings.

It also includes a learning vibration system where the collar would vibrate before delivering a static stimulation to help train the dog. A vibration only mode is there for training and when your dog is fully trained and doesn't need static corrections anymore.
This product is unavailable or out of stock.

Best Deal Guaranteed

Free Training Guide

Shipped Same Day

'Trade Up' - Trade In...

6 Month Trade In Guarantee
Dog Bark Collar Reviews
Nuisance barking is one of the major dog related problems that we face as dog-owners. A dog constantly barking at unnecessary things and situations often disrupts the peace and quiet...

A common question for electric dog collars is "will electric dog collars burn my dog's skin?" The answer is no, they will not hurt your dog.
The only way a dog "shock" collar can hurt a dog is, if it is improperly fitted or left unhygienic - this does not only apply to Bark Collars but to all other Electronic Dog Collars. Read on to learn how to properly use and clean these dog zap collars... and avoid hurting your own dog.

Completely stopping your dog to bark is unrealistic. Dogs bark to communicate. However, when it comes to excessive barking, dog-owners have to take it up a notch and resolve the barking problem to keep the peace and quiet in the house, especially in the neighbourhood. So, understanding why a dog is barking is important in solving the nuisance barking. Read on to become an expert of the canine language and be able to decode your dog's bark sound.

Aussie Buyer Protection
Trouble Free Guarantees
Lowest Price / Best Deal
7 Day Support Line
Proud Aussie Family Business (Since 2003)
Free Dog Training Guide
Supporting Animal Rescue
Have a Question? Prefer to Order by Phone?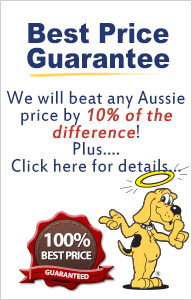 Best Deal Guaranteed

Free Training Guide

Shipped Same Day

14 Days 'Trade Up'

14 Day 'Trade up' Guarantee