The Dog Line is all about helping to improve relationships between people and dogs.
We make it easier. We help people find the right products, the right advice and find the right services; and that helps make life easier. It's a Win-Win.
We first started in 2003. We needed to find a solution to a barking dog problem. From there we have grown to a company helping to bring the dog industry together to make it easier to find the right help when you need it. Click here to read more about how we first started...

The Big Picture
It's about a holistic approach to the dog world and the industry. We want dog owners to be able to find the help they need easily. We are providing one location where people can find products, advice and services to help make life easier for them and their dogs sooner. We also help dog businesses assist their customers with access to products and other services with their own virtual dog shop when they need it.

Finding homes for abandoned dogs
Why should a dog be euthanized simply because it doesn't have a home – Yet?
Every year many dogs are abandoned or lost, some of these due to behavioural issues that could have been solved with the right approach. A good number of these dogs never make it back or find their way to a loving home. We want to see this changed and we're helping achieve this in two ways.
As we mentioned above we help people find the help they need and help support the industry.

We help find homes for dogs in need by supporting charities and dog re-homing services. Since 2004 we have been supporting SAFE (Saving Animals From Euthanasia) in their efforts to find homes for abandoned dogs. Why should a dog be euthanized simply because it does not have a home?

Click here

to read more about SAFE.
In summary, by helping people with solutions to their dog problems and supporting charities who find homes for abandoned dogs we are making a difference at both ends. Less dogs are abandoned due to behavioural issues and more dogs find homes when they need one.
We have found that most issues can be solved with the right advice - the right people - and the right products.
Community support
For more information on how we have supported the community please visit our pages on shire support.

Victorian Bush fires - Pets Appeal

We were also able to offer assistance to people who were affected by the Victorian bush fires in 2009. We started a Pets Appeal and arranged for donations of pet products (over 140 Kilos) that we took to the affected areas. We helped in the relief effort by distributing these products to those who needed help with their pets. Click to read more..

Our Team
We now have a dedicated and caring team of people available to advise you on the use of our equipment. We help reduce dog problems, which helps people have a better relationship with their dog.
Please let us know if there is anything that we can help you with throughout your relationship with our company.
Welcome to The Dog Line - Here for you and your dog.
Colin Seal

Aussie Buyer Protection
Trouble Free Guarantees
Lowest Price / Best Deal
7 Day Support Line
Proud Aussie Family Business (Since 2003)
Free Dog Training Guide
Supporting Animal Rescue
Have a Question? Prefer to Order by Phone?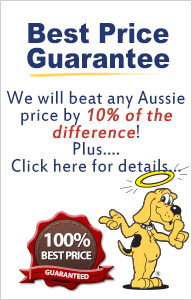 Best Deal Guaranteed

Free Training Guide

Shipped Same Day

14 Days 'Trade Up'

14 Day 'Trade up' Guarantee