We are Really Sorry - But something is Broken.
ERROR: Unsupported RSS Version Specified
We would love to hear what happened so we can fix it and make sure you get what you are after.
Or call us here - 1300 843 364 - we are open 24/7 for Support and Sales
Or contact us via our FaceBook Page - https://www.facebook.com/TheDogLine
Many Thanks

Aussie Buyer Protection
Trouble Free Guarantees
Lowest Price / Best Deal
7 Day Support Line
Proud Aussie Family Business (Since 2003)
Free Dog Training Guide
Supporting Animal Rescue
Have a Question? Prefer to Order by Phone?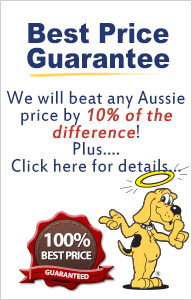 Best Deal Guaranteed

Free Training Guide

Shipped Same Day

14 Days 'Trade Up'

14 Day 'Trade up' Guarantee